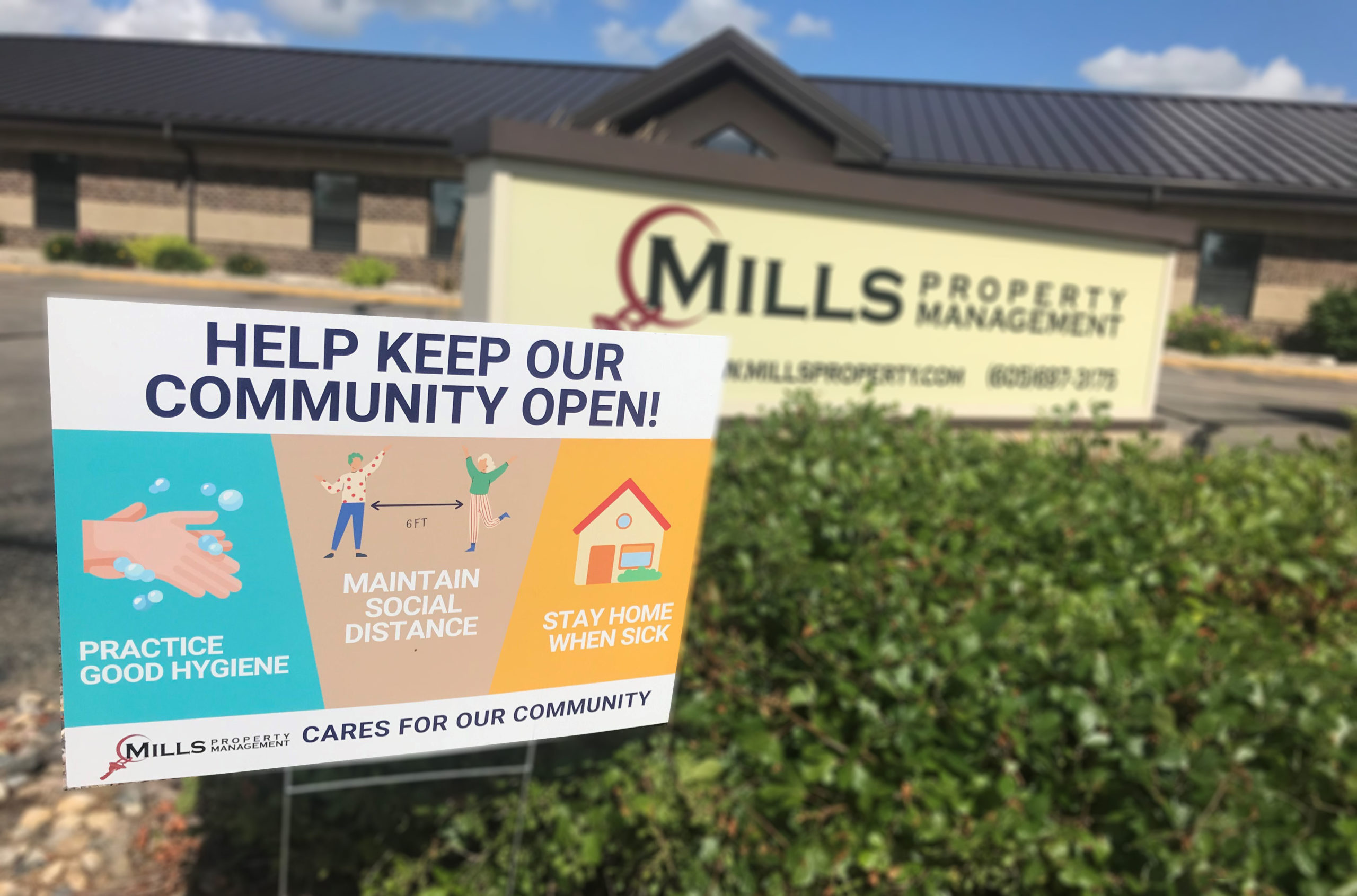 Mills Property Management office locations are now re-open for walk-in customers in most of our communities. We will continue to evaluate each community on an individual basis to determine if the office location will be open. While the majority of our locations are now open, please contact your local management office before coming in to ensure the office is open for normal business hours. We will continue to monitor changing situations and may adjust office hours as needed at any time.
We would like to continue to encourage our customers to call, email or text the management office when possible, instead of coming in. We will also continue to offer options for virtual showings and online applications for those interested in leasing. Please contact our office to find the option that works best for you. You can reach us at info@millsproperty.com or by calling 605.697.3175 any time during business hours.
We are following the CDC's recommended guidelines to keep our employees and customers safe. Steps we are taking include:
· We are taking precautionary measures to ensure our staff is reporting to work only when healthy. 
· MPM staff are routinely sanitizing surfaces such as mailboxes, door handles, light switches, elevators, and hand rails in common area spaces. These cleaning practices are in addition to the common area cleaning services already in place.
· If MPM staff arrives to your property and you show any sign of illness (excessive coughing, sneezing, or the appearance of a high fever) we will politely, for your and our safety, reschedule our appointment in a few weeks, once you have recovered.
We encourage our customers to wear masks or facial coverings, wash/sanitize your hands before coming to the office, and — most importantly — stay at home if you are feeling sick. To ensure our customers and employees maintain social distance, we will also be placing acrylic barriers at some of our office locations, asking customers who are waiting for assistance to remain at least 6ft apart or wait outside the office, and will not be allowing customers to use shared common areas such as bathrooms.
More information on COVID-19 and current guidance can be found on the CDC Website: https://www.cdc.gov/coronavirus/2019-nCoV/index.html
If you have any specific questions please contact us at 605.697.3175.
We look forward to seeing you,
Mills Property Management